Reflections of a Permanent Extra!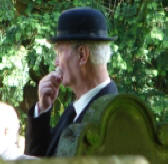 One day in 1993 a chap came into the bar of the Goathland Hotel and asked if we would like to be on as extras. We said "Of course" — to be given a free pint, and paid to drink it, appealed to our Yorkshire sensibilities. From that day I was hooked: I was in for the whole series and made two hundred and three appearances.
Regular viewers of 'Heartbeat' will know what a dangerous place Aidensfield has turned out to be: we've killed five doctors and three policemen! The first of the policemen was a young chap who only lasted a few months before he was shot. He had a large funeral and a brass band played. We had one very sad funeral of a child when policeman Phil Bellamy and Trish the barmaid had a stillborn baby. When Phil was shot in a later episode he was buried alongside the baby.
In addition to the funerals (and not all in the same episode!) we have had satanic symbols painted on the church door, the church broken into by a circus family, thefts from the church with suspicion falling on the vicarage, a lay preacher hurt in a shooting accident, a suspicious organist and a grave robbed to recover a stuffed sheep! And of course we have had numerous weddings. The picture in church here shows PC Nick Rowan marrying his second wife, primary school teacher Jo. Nick's Best Man is Phil Bellamy. The couple are being 'married' by the then Vicar of St Mary's, Revd Canon Edwin Newlyn. Long-time Heartbeat fans will remember that, on the wedding day, Nick went for a drive on the moors to soothe his nerves, got involved in a domestic dispute, and ended up stranded!
Another episode told about the trouble caused by a local resident who objected to bell-ringing practice. Filming for this was done in the churchyard, tower and bell chamber; but as we have only five fixed bells rung by hammers (see here) bell ringing by a team pulling on ropes had to be filmed elsewhere. The team of six ringers managed to ring a peal of eight swinging bells, which surprised some viewers! For some of the extras the most memorable event of the day was when a well-made production assistant became stuck in the trapdoor between the bell chamber and roof of the tower. The extraction, which was not easy, produced great merriment!
Peter Wainwright
With great sadness we lost Peter Wainwright after a long illness on September 20th 2016, and he was buried in St Mary's churchyard on Saturday 24th September. Pete was a greatly loved resident of the village, and a devout and regular member of the congregation at St Mary's. He was a member of the choir and a bellringer. Recognised by his tallness and flowing moustache he was the most famous of the Heartbeat extras, appearing in over 200 episodes.